Welcome to the Stella and Sam Wiki
Edit
Stella and Sam is a preschool television series based on the Canadian book series "Stella" and "Sam" by Marie-Louise Gay SSSSSSSSHHHHHHHH published by Groundwood Books Inc. The second season of the series is currently in production with Radical Sheep Productions and Family Channel. The French-language version of the show Stella et Sacha premiered on Playhouse Disney Tele on Sunday, October 3, 2010 while the English-language version of the series premiered on Playhouse Disney on Sunday, January 9, 2011.[4]
The show's theme music is performed by singer Emilie Mover.
Stella, a nine-year old girl, happily guides her four-year old brother Sam, through the wild spaces beyond their back porch. For Stella, the Great Outdoors is more than a place - it's a playmate! Sam learns, (with a little imagination), that a chair can be a spaceship, there are drangons in the meadows and trees make great pirateships. Their adventures fill Sam with questions, and Stella has an endless supply of answers - as long as you're not too fussy about the facts!
Latest activity
Edit
Photos and videos are a great way to add visuals to your wiki. Find videos about your topic by exploring Wikia's Video Library.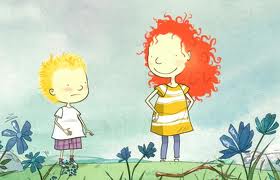 Ad blocker interference detected!
Wikia is a free-to-use site that makes money from advertising. We have a modified experience for viewers using ad blockers

Wikia is not accessible if you've made further modifications. Remove the custom ad blocker rule(s) and the page will load as expected.