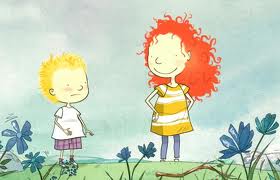 Stella and Sam is a preschool television series based on the Canadian book series "Stella" and "Sam" by Marie-Louise Gay and published by Groundwood Books Inc. The second season of the series is currently in production with Radical Sheep Productions and Family Channel. The French-language version of the show Stella et Sacha premiered on Playhouse Disney Tele on Sunday, October 3, 2010 while the English-language version of the series will premiere on Playhouse Disney on Sunday, January 9, 2011. The theme song is sang by MoZella.
Stella, a 9-year-old girl proudly guides her 4-year-old brother through many adventures just beyond their back porch. The Great Outdoors are more then just a place, it's a playmate! Sam learns that lots of things can turn into something cool, (with a bit of imagination). Like how a chair can be a spaceship, there are dragons in the meadow and that trees make great pirate ships. Their Adventures fills Sam with questions, as Stella has endless supply of answers. Just don't be to fussy about the facts.
Characters
Stella: A 9-year-old girl who is sweet and adventurous. She has long curly orange hair, a orange and white striped shirt and red sneakers. She is voiced by Chloe Grace Moretz.
Sam: Stella's little brother. He is a caring and adventurous 4-year-old boy. He has yellow hair, and wears and white t-shirt, purple stripped shorts and blue sneakers. He is voiced by Jacob Hopkins. 
Fred: Stella and Sam's pet dog who come with Stella and Sam on every adventure. He is a very caring and fun dog. He does not like water. He is voiced by Tony Daniels.
Owen: Sam's best friend. He comes on several adventures with Stella and Sam. He wears blue trowsers over and red and white stripped t-shirt. He has black curly hair and is voiced by Hugo Jackman.
Ivy: Stella's best friend. She comes on several andventures with Stella and Sam. She has short black hair withbangs coming over her forehead. She wears a pink stripped dress. She is voiced by Teresa Gallagher.
Ad blocker interference detected!
Wikia is a free-to-use site that makes money from advertising. We have a modified experience for viewers using ad blockers

Wikia is not accessible if you've made further modifications. Remove the custom ad blocker rule(s) and the page will load as expected.